Ah the French!
So sophisticated, so timeless, and the language!. Many French words have found their way into the English lexicon that we American's, and many others, use today. Now we know this article is about new toilet installation but stay with us…. this is a great story.
Let us examine the word "toilette"…
Today when anyone uses this word it's usually at the end of the phrase "eau de toilette"; which simply means toilet water. This is how we categorize our fragrances used by men and women. Did you know that eau de toilette is stronger than eau de Cologne. but not as strong as eau de parfum? Yet, the word toilette meant something different long before it had anything to do with washing, rinsing, or making yourself smell pretty. Back in those days what they wouldn't give for a new toilet installation!
So what's the history of the word toilet?
Early on a toilette was merely a table that had some fancy decorations and maybe a nice tablecloth that adorned it. It may have held articles that a woman would be needing as she put on her attire for the day. However, towards the early 1900's it became to mean a personal grooming station. It could include garments and apparel. Frequently it included irons, brushes, lotions, powder, make-up, and other morning essentials.
Then some time after the Great Depression, a couple World Wars, and Woodstock, the toilette became the toilet.
This is where it gets interesting…
Now, this was an entire room that contained a sink, maybe a vanity mirror, bath tub or shower and another French word, a commode. The commode was basically a chair, fashioned with a bowl, that you sat on to relieve yourself. Similarly, the word commode, much like toilette, in the 1700's was any piece of furniture that made living in an area more suitable or more convenient. It's where we get our word "accommodations" from. Isn't that fascinating?
This brings us to 2017 where the word toilet or commode both refer to the ceramic bowl where we do our "duty" or handle some "business". If you're interested in a new toilet installation in your newly created or remodeled bathroom or replacing an old one there are several types to choose from:
Two-piece Toliet: The most common toilet for homes, apartments, and small offices. These also tend to be the least expensive and easiest to maintain.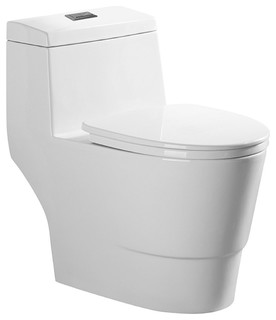 One-piece Toliet: Fashioned from one piece of ceramic, the one-piece toilet have the tank and bowl fused together. This version is very easy to clean and its minimalist design makes it easier to fit in certain spaces. However, if one part cracks you're replacing the entire unit.
Smart Toilets: Yes, there are such things as "smart" toilets. And why not? You have TVs, phones, and cars that have "smart" variants why not your toilet? And as you could imagine these intelligent toilets can do a number of things. From seat warming to self-cleaning, these units can auto-mate a number of functions. Some are tankless and others come with settings that can conserve water. Yet don't expect to conserve any money, not at the outset at least. These toilets are usually quite expensive and can be costly to repair. If you can afford the initial investment they can be worth it.
Wall-Mounted Toilet: If you really need to save some space, this is the unit of choice. The tank is usually behind the wall and the bowl is sits off the floor. This design can save a lot space and bring a very sophisticated looked to your bathroom.
Elevated Toilet: These are taller toilets usually for those who have a tough time sitting or getting up. Usually installed in homes for those that are elderly or have a disability making trips to the bathroom with lower toilets quite the hassle.
Where should I put my new toilet?
One thing remains a necessity when it comes to new toilet installation, where you put it. Designing the most accommodating facilities typically involves the placement of your tub, sink, and toilet. Now if you're building your bathroom from scratch you have the opportunity to make installing these pieces very easy the first and each time after that. If it's an old house from 1925 and the toilet is so close to the door that locking it is not only for privacy but for self-defense, then you have some other things to ask yourself:
How much space do I need for your toilet?
If you have a large space and can separate your bathtub from your toilet that can leave you with tons of options for your new toilet installation. Yet, what if all three have to go in the same space?
Do you change out the full bathtub for a stand-up shower? How easily can you install a wall-hung toilet in this space? If you have to have the toilet in the same area, how can you make sure it's well-ventilated?
What kind of water source do I need for my toilet?
Your ideal bathroom may be a blank canvas or you may have all kinds of constraints that hinder that. For example, you may be challenged by where the water enters your property. Of course, there are numerous ways to re-route water to suit your needs but determining that first can save time and money for your new toilet installation. Therefore, take the time to map these things out before deciding on your toilet system.
What is going to be the function of my toilet?
Functionality, at the end of the day, is paramount when considering your new toilet installation. Depending on who and how many people will be using your bathroom may determine if you go with an elevated seat for the grandma or one with a flusher that's easy for a child to flush.
Cost of a new toilet
Of course if money is no object you can go wild with toilets of different materials including steel, marble, porcelain, gold. You can also get one with a remote and some are touch-less. If you're on a budget there are a number of options to meet just about any need. One word of caution, don't go cheap. You will definitely find some cheaper units that seem to be just fine. Nevertheless, this purchase is not one you want to make again soon and certainly not one you want to have make because of an emergency caused by you trying to save a few dollars.
New Toilet Installation
After you've determined which toilet works with your space, decor, and overall use of your bathroom expect the unexpected. You may begin the new toilet installation process and find out there's way more going on in the floor or behind the wall or with the pipes than you realized. If you aren't sure what do next call us Mitch Clemmons Plumbing at (562) 242-3218. We will provide an estimate that not only includes the cost of installing your toilet but the repairs or adjustments needed to make sure your new toilet works appropriately and efficiently.
If the whole process seems a bit daunting well we can come and give your bathroom a proper inspection. Then we'll advise on the best approach to replacing your toilet. If it feels like your toilet is about to give way soon, call us quickly. (562) 242-3218 That toilet water isn't the kind you want your home smelling like.
Check out our service and repair page for more info.